Skip to Content
Find Your Perfect Mattress
Find Your Perfect Mattress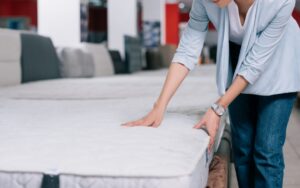 Welcome to Sleep Cheap Mattresses, where you can find your perfect mattress at an affordable price. We offer a wide selection of high-quality mattresses in Twin, Twin XL, Queen, and King sizes, all at prices 50-60% off the prices of our competitors. Our mattress stores are conveniently located in cities throughout the Mid-South, including Memphis, Germantown, Collierville, Bartlett, Cordova, Arlington, Lakeland, Southaven, Hernando, Olive Branch, Senatobia, West Memphis, and Marion.
In this blog, you will have the opportunity to compare our prices with those of the major distributors and see the savings for yourself. Our goal is to provide you with a comfortable, high-quality mattress at a price you can afford. Browse our extensive selection and find your perfect mattress today!
Budget-Friendly Options
Our selection of Twin and Twin XL mattresses is perfect for smaller bedrooms and budget-conscious shoppers. Top brands like Serta, Sealy, Beautyrest, and MLILY are available.
More Room to Move Around
A Queen size mattress provides ample space for both partners to sleep comfortably. Affordable prices and top brands like Sterns and Foster, Beautyrest, and Serta are available.
The Ultimate in Comfort and Space
A King size mattress provides the ultimate in comfort and space. Our King size mattresses come from top brands like MD Mattresses, Sealy, and Beautyrest.
Conclusion
We invite you to visit Sleep Cheap Mattresses and explore our selection of high-quality, affordable mattresses. By clicking on the links in this blog, you will be able to compare our prices with those of our competitors and see the significant discounts we offer on top brands. Experience the same level of quality and comfort for less in Memphis, Southaven, and West Memphis.
Discover Your Perfect Sleep Solution
Perfect Sleep Solution Discover your perfect sleep solution at Sleep Cheap Mattresses. Browse our extensive mattress collection at our Comfort Zone: www.sleepcheapmattresses.com/comfort-zone
#SleepCheapMattresses #MattressSizes #ComfortableSleep #AffordableMattresses #DiscountMattresses #Memphis #Southaven #WestMemphis #Serta #Sealy #Beautyrest #SternsAndFoster #MLILY #MDMattresses #MattressStoreNearMe